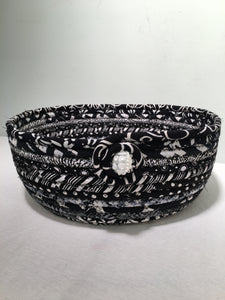 Great for holding many things! Yarn, fruit, bread…all your bounty!
Each bowl is uniquely hand made and individual. Some are trimmed with double cording, some with leather and others with hand made glass beads.
Black and White multi bowl trimmed with a very funky hand made glass bead.
This bowl measures 4 1/2″ high x 10 1/2′ wide.
Because they are all hand made the sizes do vary slightly. Each basket is hand made at the time of ordering so there may be slight differences but the colour pallet will remain the same.